Bundesliga Match-day 27 preview
The Bundesliga returns to our screen this weekend, it promises to provide tons of goals and excitement.
We've done our homework on the possible outcomes and as we're more than happy to share them with you.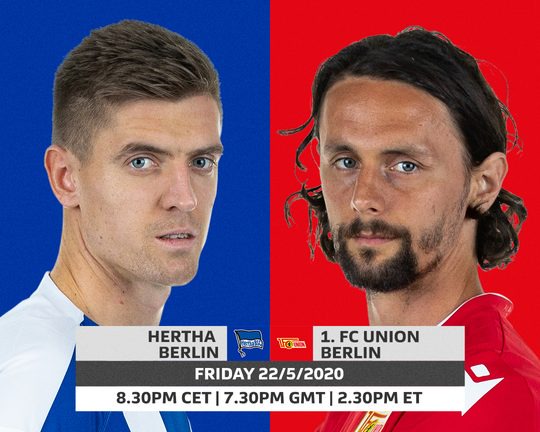 Hertha BSC vs Union Berlin (Berlin Derby)
Union Berlin travel away to the Olyympiastadion, Berlin, to face Hertha BSC in the first game of Week 27 Bundesliga matches.
Three points will be very crucial in this game as both sides will try to distance themselves away from the relegation fight.
The 5-0 defeat at home to Koln remain Hertha's only loss in five Bundesliga games [2W, 2D, 1L], Union Berlin have managed just one win in the same period [1W, 1D, 3L].
Both teams have scored in three of Hertha BSC last five games, they've been at least 3 goals scored in all of those games – Hertha BSC sure have a Bachelor's degree in producing goals when they take to the pitch.
Read: Real Madrid offered Bale to MLS teams
In Union Berlin's case, both teams have found the back of the net in four of their last five Bundesliga games, a minimum of 3 goals have been scored in four of their last five matches.
The stats above could only mean one thing, GOALS!
Hertha BSC is in a better form, and former AC Milan striker, Piatek could return to the starting line up, but the head-to-head stats indicate we might be in for a draw or a slim win by either of the sides.
Read- Roger Milla: The ageless, unnatural African striker
Union Berlin have scored in all their matches against Hertha, they [Union Berlin] have won twice, drawn twice and lost just once against Hertha BSC.
Union Berlin have two victories in five recent away matches, Hertha BSC are winless in five Bundesliga games at home.
The Berlin derby, just like every other derby in football is hard to call but I think Hertha Berlin could turn around their home form with this match.
Prediction: Hertha BSC 2-1 Union Berlin
Borussia M'gladbach vs Bayer Leverkusen
Two teams in form go toe-to-toe in the headline game of Week 27 Bundesliga fixtures.
Both teams have scored in all of M'gladbach's five recent matches, a minimum of 3 goals have been scored in four of those games.
Bayer Leverkusen have scored at least three times in all of their last four matches, they're unbeaten in their last 11 games, winning 10 of them.
M'glabach have won two of the last meetings between the two teams.
There has been no draw in the last 7 meetings between these two, both teams have scored only twice in that same period.
Goals are assured (at least two), but we are going for a draw in this game.
Prediction: Borussia M'gladbach 1-1 Bayer Leverkusen
Wolfsburg vs Borussia Dormund
We landed our correct score prediction on Wolfsburg last week, they face Borussia Dortmund on Saturday.
Very few teams have the firepower to defeat Dortmund in the Bundesliga, I'm certain Wolfsburg will leastway give them a run for their money.
Dortmund have won four of their last five matches in all competitions losing only once to PSG in the Champions League.
Wolfsburg have 2 wins, 2 draws and 1 loss in five recent matches.
Dortmund have scored 13 goals in their last five Bundesliga matches conceding just once.
Both teams have scored in 3 of Wolfsburg's last 5 games.
Dortmund have battered Wolfsburg in recent times, they [Dortmund] are unbeaten against Wolfsburg in their last 7 games, winning 6 times and drawing once.
Wolfsburg have scored only once against Dortmund and that happened back in 2016.
The away side could start with Jadon Sancho after the Englishman recovered from a minor knock, Emre Can is also available.
All the stats point to a Dortmund win and possible cleansheet, if stats really don't lie Dortmund should win this by a few goals.
Prediction: Wolfsburg 0-2 Dortmund
Freiburg vs Werder Bremen
Freiburg could well play in Europe next season and this game may be one of the deciding matches.
They sit 7th, two points behind Wolfsburg who hold the last European spot in the Bundesliga.
Considering that Wolfsburg host Borussia Dortmund this weekend, Freiburg have a chance to sneak into European places of they get a big win in this game and Wolfsburg lose scandalously.
Freiburg held Leipzig to a draw last week, they almost nearly snatched all three points but for a VAR decision that disqualified a late goal for them.
Frieburg have won just once in their last 5 matches but considering that they've played Dortmund, Augsburg, and Leipzig in that period, their record of 1 win, 2 draws and 2 losses is not all that bad.
Werder Bremen have managed one point out of a possible 15 in five recent games, they look destined for the drop except they start picking up points fast.
History favor Werder Bremen as Freiburg have lost 8 of their last 13 homes games Bremen.
However Freiburg are 19 points better off than their opponent this season, they are on the brink of European football and this should incite them to go all out for the maximum in this game.
Prediction: Freiburg 3-1 Werder Bremen
Paderborn vs Hoffenhiem
Hoffenheim should probably be in the mix for European places if not for their poor recent form, the latest being the 3nil trashing at home last weekend against Hertha Berlin.
Both Paderborn and Hoffenheim are winless in five games.
Paderborn are without a win since January and are still searching for their first Bundesliga goal against Hoffenheim.
Paderborn are in all sort of problems, they've lost 4 of the 5 games they've played against Hoffenhiem.
Paderborn's best result against Hoffeheim till date is a draw back in 2015.
Hoffehiem have beaten all the newly promoted sides this season and this should be another win for the away side.
Paderborn 1-3 Hoffenheim
Bayern Munich vs Eintracht Frankfurt
The Bavarians are unblemished in seven straight games are seem to be matching towards yet another title.
Eintracht Frankfurt lost some quality players like Luka Jovic and Ante Rebic before the start of the season which has affected the team's performances this term.
They [Eintracht Frankfurt] seem to have lost the steam and drive that helped them qualify for this season's Europa league.
Bayern Munich have won six of the last six meetings between both sides, the margin of the victories has been similar to a tennis scoreline.
Bayern have scored 5 goals three times, 4 goals once, and 3 goals twice in their last six games against Eintracht Frankfurt.
Frankfurt have won just twice away from home this season, we expect the table toppers to rollover them.
Bayern Munich are the only unbeaten team in the Bundesliga this year, Frankfurt have the worst away record this season and Bayern are averaging 3.1 goals per game this season.
Prediction: Bayern Munich 4-0 Eintracht Frankfurt
Schalke 04 vs Augsburg
Two teams struggling for form and points, Schalke have one point in 5 games.
Augsburg have exactly the same record, Schalke were thumped by Dortmund last week and this could be a chance for them to save face and redeem themselves.
Schalke have a good head-to-head record though, they're unbeaten against Augsburg in 7 games [4W, 3D] dating back to October 2016.
Read: Chelsea will allow Kante miss rest of the season
Schalke have never lost an home game to Augsburg, they won 6 times and drawn twice in 8 home fixtures.
Augsburg have only won once against Schalke in all competitions and have managed only 2 wins on the road this season.
Prediction: Schalke 2-1 Augsburg
Mainz vs Liepzig
Timo Werner will be looking to find his scoring boots in this game after going blank in his last eight Bundesliga games.
Liepzig will however aim to put the draw against Freiburg behind and try to get maximum points in this game.
Mainz have lost once in five games [1W, 3D, 1L], they're unbeaten in three recent matches [1, 2D].
Read: Florentino Perez make first move for Halaand
Liepzig are unbeaten in eight games. but have drawn three times in that period, they're simply not killing off games.
The last meeting between this two teams ended 8nil in favor of Liepzig.
Mainz have won only once against this weekend's opponent in all competitions.
Leipzig have won 7 games on the road this season, drawing 4 times and losing twice.
Mainz have won 4 home games, drawn twice and lost 7 times at home this term, very similar to the opposition's away record.
Prediction: Mainz 1-3 Leipzig
Köln vs Fortuna Dusseldorf
Only Bayern Munich have beaten Köln in six recent matches [3W, 2D, 1L], Dusseldorf have lost once in six games [1W, 3D, 1L].
Köln have won 23 times, drawn 14, and lost 11 times against Dusseldorf in all competitions.
Köln blew a 2-goal lead against Mainz last week, they'll be hoping to make up for it this week.
All the stats and records point towards a Köln win and it shouldn't be different if Köln doesn't repeat the performance of last week.
Prediction: Köln 2-1 Fortuna Dusseldorf
Read Also – COVID-19: Football players get option for self-test